California is ground zero for yoga, surfing, mountain biking, and snowboarding.  It's the birthplace of the Beatniks in the '50's and the hippies in the '60's.  And it's home to Muscle Beach, sushi, veganism, and Hollywood.
In short, Californians are free spirits who love health and fitness.  So you're bound to find many of them running around in the buff.  Whether it's a nude beach, clothing optional hot springs, or a naked event, Californians are not shy about baring it all.
Our most popular blog post ever was
9 Fun Things To Do Naked (Besides Sex)
, so consider this a companion piece for having fun adventures in the nude.  From the beautiful mountains of Lake Tahoe to the pristine beaches of San Diego, here's a "naked tour" of the amazing Golden State.

Northern California
Sierra Hot Springs
We start our journey in the High Sierras just north of Lake Tahoe near the Nevada border.  
My wife, Allison, and I recently visited

Sierra Hot Springs

, an idyllic non-profit resort and retreat center nestled in a tranquil forest and beautiful alpine valley.  

While our friends were skiing at nearby Alpine Meadows, we decided we wanted to do something more relaxing in nature.  What better way than getting naked, meditating, and luxuriating in mountain hot springs.
Sierra Hot Springs offers several pools and baths to explore.  On our visit, we checked out the Meditation Pool and the Temple Dome Area.
The Meditation Pool
(98-100°) is outdoors, surrounded by rock tile. In this faux natural pool, you step down rock steps into a sand bottomed delight.  There were two women when we arrived - one older Eastern European woman (probably in her late 70's) and a younger woman who was doing quiet meditation and reading.
The Temple Dome Area
is the main pool area and consists of
The Hot Pool
(105-110
°
) which is enclosed in a large geodesic dome, featuring stained glass and skylights. Complemented by two cold plunges this pool is also sand bottomed, with mosaic tile sides. Outside the dome, the large
Warm Pool
(98-100°) is complemented by a large sundeck and a Dry Sauna.
In this area, there were probably about a dozen people moving between the different pools, enjoying the sun deck, and experiencing the sauna.  They were a variety of young, old, male, and female.  Everyone was friendly and respectful, which provided a very safe relaxing experience for us.
You're not supposed to take pictures, but of course Allison got a couple shots of me for this blog post.
Bonus Tip
:  If you're in South Lake Tahoe, perhaps skiing at Heavenly, there's a great inexpensive place to get a massage called
Tahoe Asian Massage
.  Allison and I stopped in and each received a 1-hour couple's full body & foot massage for only $35 each.  At that price, we were skeptical, but we were pleasantly surprised.  Another fun and enjoyable activity in the buff!   
Claremont Spa
On your way back to the Bay Area, make a visit to Fairmont Hotel's
Claremont Club & Spa
in the Berkeley / Oakland Hills.  It's one of the most amazing luxurious spa escapes you'll find.
Open since 1915, the Claremont
offers endless activities with state-of-the-art fitness facilities, 22 acres of landscaped gardens and a rejuvenating spa. Guests can indulge in ancient acupuncture, rejuvenating facials or relaxing massages, before taking a dip in the saline whirlpool overlooking the San Francisco bay.
The Claremont offers everything from Hot Stone and Aromatherapy massages to Mud Body Wraps and Chamomile Body Scrubs.  Talk about getting your naked body thoroughly pampered!
San Francisco
It used to be legal to be totally nude in public in San Francisco until a few years ago.  Tourists and locals alike got a little freaked out by all the naked people walking around the Castro neighborhood, so they passed a law prohibiting full nudity.  Despite the new anti-nudity law, there are still a number of ways to enjoy being naked in SF.

Baker Beach
Start off with a trip to San Francisco's primary nude beach,
Baker Beach
.  Baker is a beautiful beach located in the southwestern tip of the Presidio, part of the Golden Gate National Recreation Area.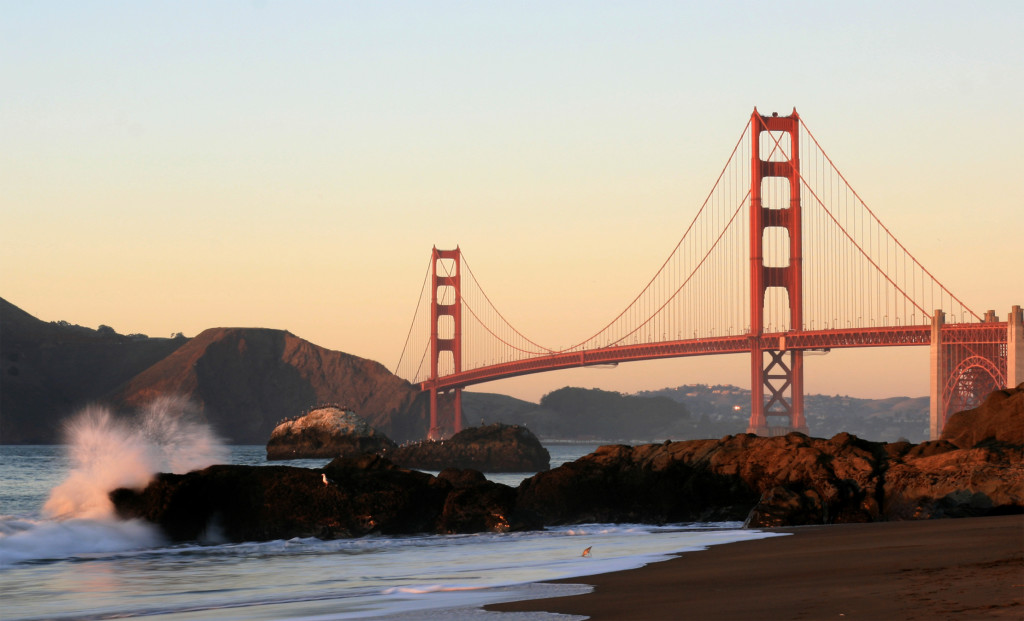 The clothing optional area is on the northern part of the beach.  On a nice day, you'll find throngs of beachgoers, both on the nude end and the clothed end.  The views of the cliffs and the Golden Gate Bridge are spectacular, but be aware cool temperatures and heavy winds, even in the middle of summer.  

Bay to Breakers Race
The annual
Bay to Breakers Race
takes place in mid-May and has been an SF tradition for over 100 years.  You'll find all manner of clothed, unclothed, and costumed runners.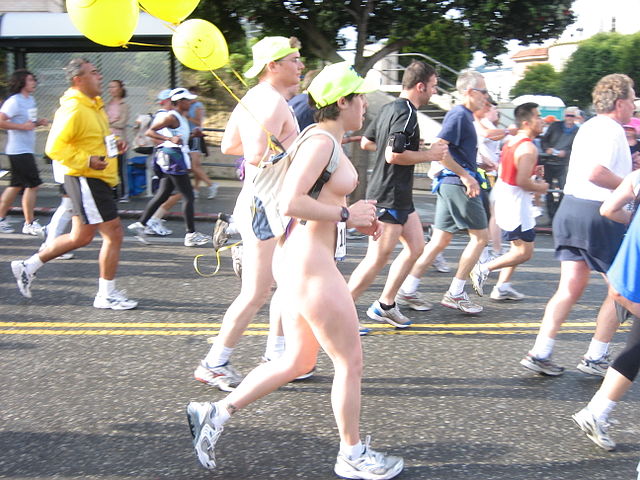 Drinking along the race became such a problem that it was outlawed a few years ago.  As far as nudity goes, it's a bit of a grey area.  It used to be totally ok to go nude, but there seems to be fewer bare runners after the drinking crackdown.
That said, you'll definitely still find out many runners going au naturel, so feel free to go for it!  Just have a pair of shorts handy in case SF's finest ask you to suit back up.

Kabuki Communal Baths
If you've never experienced a traditional Japanese communal bath, you must give it a try.  
In the great tradition of Japanese public baths, the
Kabuki Springs & Spa
communal bath is designed to encourage harmony and relaxation. Facilities include a hot pool, cold plunge, dry sauna, and steam room. Individual bathing areas offer traditional Japanese-seated bathing areas and standing western-style showers. During your visit, you're welcome to enjoy the complimentary bath products, sea salts, chilled face cloths, and teas.
Women-only days are Sunday, Wednesday, and Friday (bathing suit optional).  Men-only days are Monday, Thursday, and Saturday (bathing suit optional).  Co-ed day is Tuesday, and bathing suits are required.

Folsom Street Fair
The
Folsom Street Fair
, which takes place each year in September, is billed as the "World's Largest Leather Event."  While it's not for the faint-of-heart, if you're feeling adventurous, you'll see all manner of exhibitionists, fetishists, and erotic artists.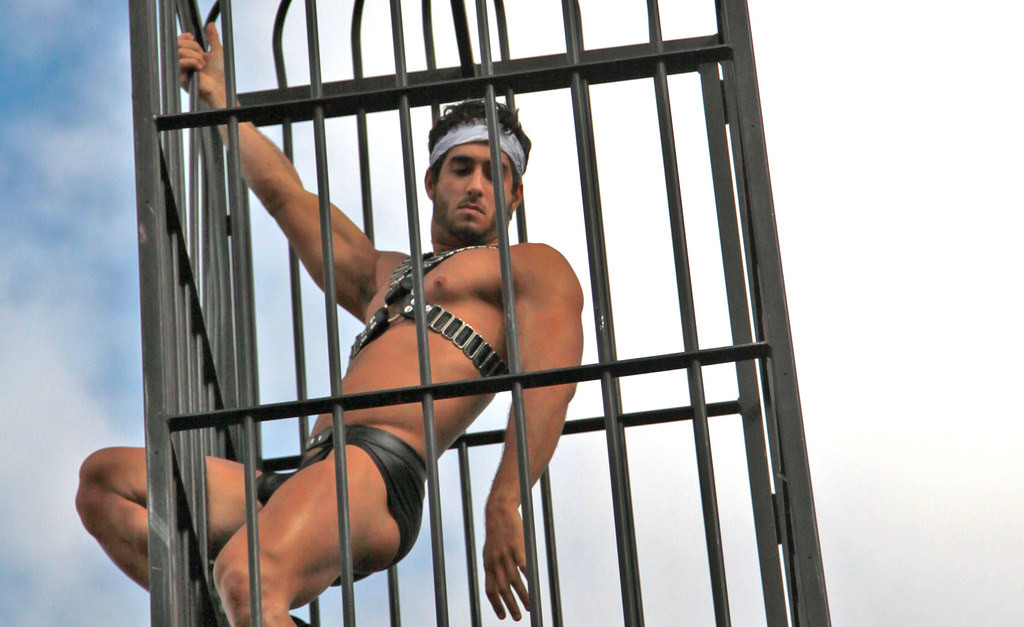 Events like Folsom Street Fair are exempt from the anti-nudity law.  You can come dressed in a full-body leather outfit or nothing at all.  It's up to you - anything goes at this event!


Southern California
Esalen Institute
If you were a fan of the TV show Mad Men, then you'll recall Don Draper visiting this hippie-style retreat in the series finale.  While it wasn't mentioned by name, it was most definitely based on the
Esalen Institute
, a "holistic learning and retreat center" located in spectacular Big Sur.
At Esalen you can enjoy workshops, hot springs, massage, and bodywork.  
The springs (also known as "the baths" or "the tubs") are clothing optional.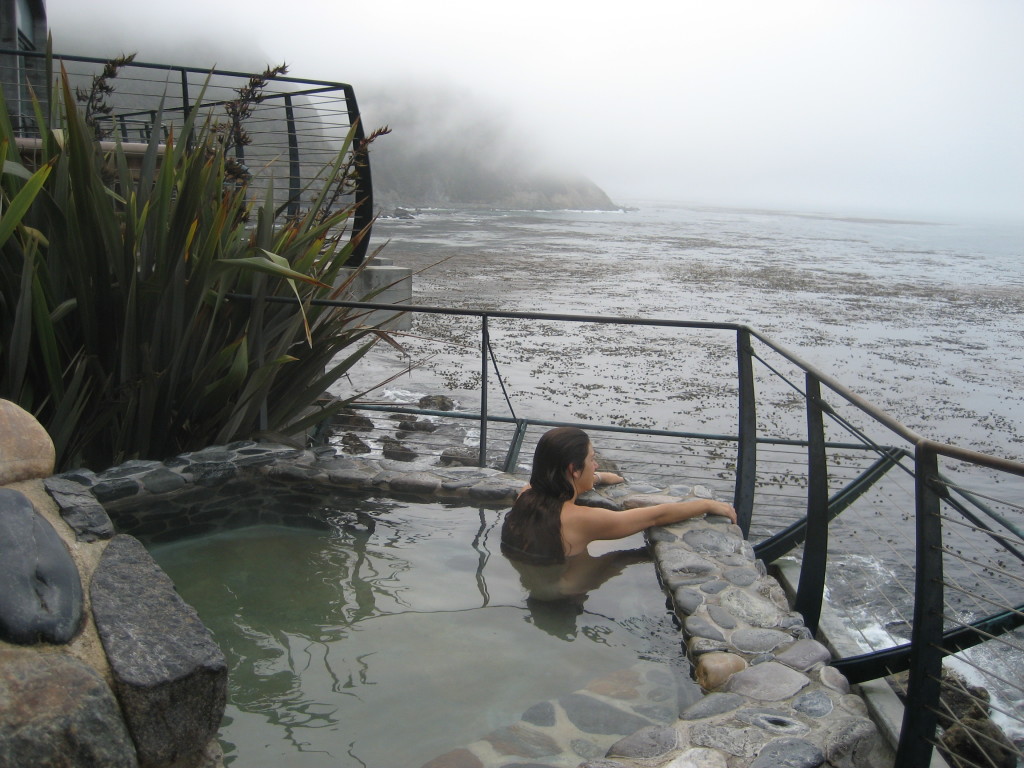 The upper level of the baths has an outdoor massage deck, "living" roof planted in native coastal grasses, and a hot tub.  To get to the lower level you go down some steps toward a perpetual fountain. There you'll find several tubs (both indoor and outdoor) as well as private clawfoot tubs and a massage room.

Olive Dell Ranch
In the small town of Colton, just outside of San Bernadino between L.A. and Palm Springs, lies
Olive Dell Ranch
.  
Since its opening in 1952, Olive Dell Ranch has offered family-friendly nude recreation to Southern Californians and visitors from around the world.  It's hosted nude Olympics-style track competitions, nudist conventions, a Rockin The Ranch music festival, and the
Bare Burro 5K Run
.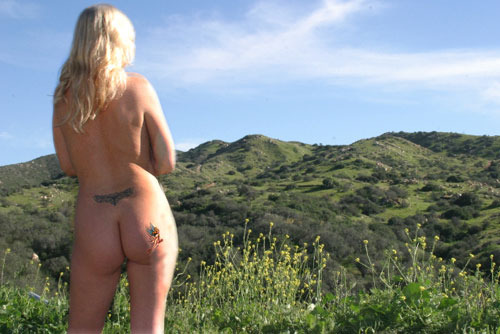 The Bare Burro Run was started in 2010 and is now established as the premier nude running event in Southern California.  More than 200 runners competed in 2015, running a challenging 5K course through the hills and hiking trails of rustic Olive Dell Ranch.  Wild burros are usually visible from the course inspiring the name of the race.

Black's Beach
The last stop on the Golden State nude adventure tour is
Black's Beach
in San Diego.  
It's one the one of the largest and most popular
nude beaches
in the United States.
Black's Beach was the first and only public nude beach in the country for several years in the mid-1970s.
The clothing-optional portion begins about 100 yards south of the trail head leading to the
Torrey Pines Gliderport
, and runs north for approximately 1.1 miles to the beached steel buoy south of Flatrock Point.

Conclusion
As you can see, there are a myriad of nude events and adventures to explore in the great state of California.  There aren't many places in the world that offer the same level of social acceptance, beautiful weather, and amazing natural scenery to enjoy being in the buff.
So whether you live in California or just plan to visit sometime, go out and enjoy the hot springs, beaches, and spas in your birthday suit!