San Francisco is one of the most amazing cities in the entire world. It's a tourist's dream, home to some of the most spectacular views, neighborhoods, and landmarks.
Here are just some of the many iconic things to see: Golden Gate Bridge, Fisherman's Wharf, Alcatraz, Union Square, Coit Tower, Chinatown, Twin Peaks, Golden Gate Park, and the list goes on.
So how does one take that all in? If you're only in San Francisco for a brief time (or have visitors from out of town), there is a way to see all of these attractions and more in just a single day.
I lived in San Francisco for 18 years, and one of my favorite things to do with visitors from out of town was to take them on the 49-mile scenic drive.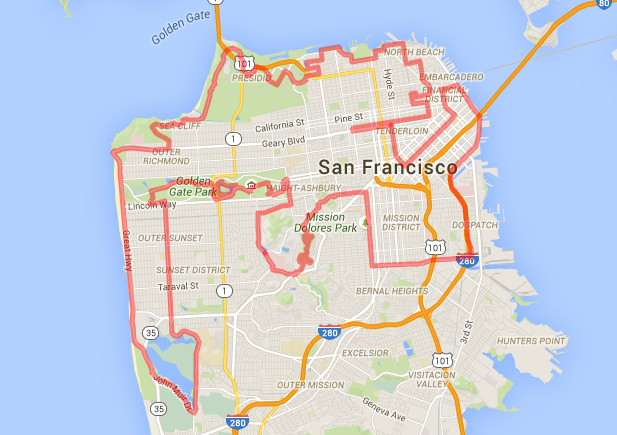 Overview & Tips
There are guide posts along the way, but you can use this Google Map to make sure you stay on course.
It stretches from the Ferry Building to Fisherman's Wharf, the Presidio, down along Ocean Beach, up through Golden Gate Park, past AT&T Park, and back to the Ferry Building in one long amazing loop.
Depending on how many stops you make, it'll take you about a full day. But you'll get to see almost all of the amazing things SF has to offer in that day. And you can always go back to your favorite spots later and spend more time.
The best time of year is late summer and early autumn from August to October. Those are the warmest and least foggy months of the year in SF.
The ideal time for the trip would be during the week from about 10am to 4pm to try to avoid rush hour and weekend traffic. Also make sure not to be near AT&T Park within 90 minutes of the start or end of a Giants game. You'll get stuck in major traffic with very few options to escape it.
Without further delay, here are 49 fun and amazing things to see and do along the 49-mile drive:
1. Ferry Building
Take the time to explore inside the Ferry Building if possible. You'll find delicious local food vendors selling everything from artisan cheeses to fresh fish. There are a number of specialty shops offering olive oil, juices, coffee & tea, wine, ice cream, and much more.
2. The Embarcadero
The Embarcadero is a scenic roadway that runs along the eastern waterfront from AT&T Park to Fisherman's Wharf. The 49-mile drive will give you just a taste of it, but if you have time you should definitely take a walk or bike ride along this stretch.
3. Financial District
While most people think of San Francisco as an Internet and Tech mecca, it's also home to the oldest and largest financial center on the West Coast. The 49-mile drive will give you a great taste of this area as you drive down Battery Street.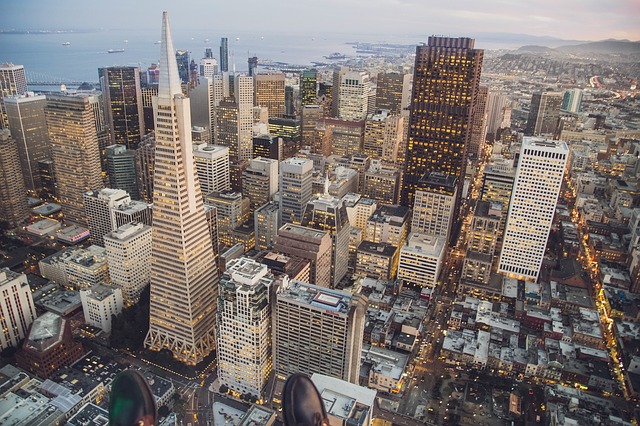 4. SOMA
For those not in the know, SOMA is short for South of Market. It's become popular as the home for many popular Internet startup companies. Some of the companies in this area include Yelp, Salesforce, LinkedIn, Stubhub, and many more.
5. Yerba Buena
Yerba Buena is actually its own small neighborhood within SOMA. It features Yerba Buena Gardens (a 2-block public park), a contemporary arts center, a bowling alley, ice skating rink, the Metreon shopping center & movie theater, and a number of restaurants and cafes.
6. Moscone Center
The Moscone Center is the largest convention and exhibition complex in San Francisco. Some of its largest events include Salesforce's Dreamforce, VMworld, Oracle OpenWorld, Google I/O, and Macworld Expo.
7. Bill Graham Civic Auditorium
This iconic music venue only holds about 8,500 people, but it's been the site of some amazing concerts over the years. Legendary bands that have played here include The Grateful Dead, The Who, and the Red Hot Chili Peppers.
8. Asian Art Museum
The Asian Art Museum is one of the most comprehensive and acclaimed museums of its kind in the world. It houses over 18,000 works in its private collection, with some dating back 6000 years.
9. Tenderloin
The Tenderloin has always been known as one of the most rundown parts of SF with lots of homeless people and crack houses. While you may not want to spend too much time here, in recent years there's been an influx of very good Vietnamese restaurants. If you're feeling adventurous, it's worth a quick stop for lunch (take-out works too!).
10. Japantown
The scenic drive cuts west for eight blocks on Geary Street so you can see Japantown, a 6-block area in the Western Addition neighborhood. It's the largest and oldest Japanese enclave in the U.S. If you have time, try the Japanese cuisine and visit the Kabuki Hot Springs, where you can enjoy a massage, sauna, and communal bath.
11. Union Square
Union Square is a beautiful outdoor square surrounded by high-end stores, hotels, and restaurants. You'll find stores like Macy's, Bloomingdales, Neiman Marcus, Nordstrom's, and Saks Fifth Avenue. It's especially nice during the Holidays with all the Christmas decorations.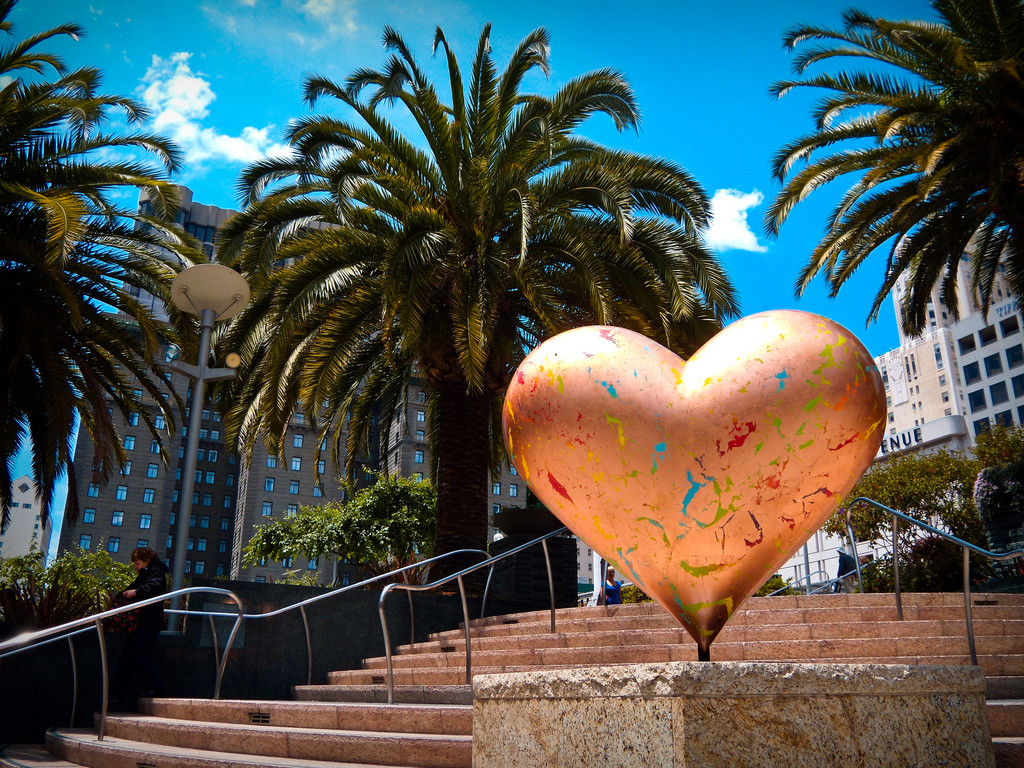 12. Chinatown Dragon's Gate
As you drive up Grant Street toward Bush Street you'll see the Dragon's Gate welcoming you into San Francisco's Chinatown, the largest Chinatown outside of Asia. Take in the hustle and bustle, and if you have time stop into some local shops and eateries.  Tip:  Find the Golden Gate Fortune Cookie Factory in a little alley off Jackson St and Grant St.
13. California Street Cable Car
As you drive up the very steep California Street, you'll be driving alongside one of three San Francisco cable car lines. This is the only one that goes east-west, so you may see some locals commuting to downtown on this line (the other two go north-south from the Wharf). Whether you do it now or later, you definitely have to take a ride on a cable car.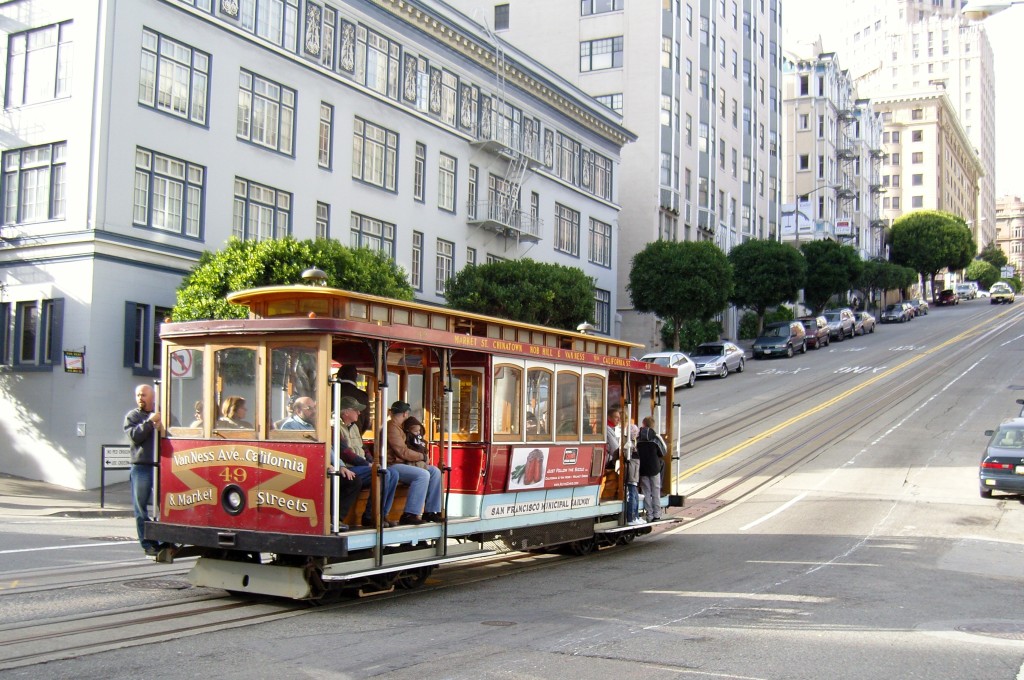 14. The Fairmont & Mark Hopkins Hotels
At the top of California Street, you'll see two of the most famous hotels in San Francisco - The Fairmont and Mark Hopkins. You may remember Sean Connery staying at the Fairmont in the movie The Rock. If you have time, check out the Tonga Room in the Fairmont. It's a tiki-themed lounge with a pool, featuring Pacific Rim cuisine and umbrella drinks.
15. Grace Cathedral Church
One block from the Fairmont on California Street is Grace Cathedral Church. This beautiful Gothic style church is open to all visitors and offers unique features like a candlelight labyrinth walk and a yoga class.
16. Nob Hill
As you drive north on Mason Street, you'll find yourself at the top of Nob Hill. This is one of the oldest and richest neighborhoods in San Francisco. Enjoy the architecture of the century old Victorians and the views of the Bay.
17. Cable Car Museum
If you enjoyed watching (or riding) the cable cars on California Street, then you should definitely take a tour of the Cable Car Museum. It's open everyday from 10am - 5pm, and admission is free!
18. Transamerica Pyramid
This is one of the most recognized buildings on the city's skyline with its iconic triangular shape. The scenic drive turns north about a block before the Pyramid, but feel free to get out and walk up to it. There's a small grove of baby Redwood trees on the eastern side of the building that's worth checking out.
19. City Lights Bookstore
City Lights is a world famous independent bookstore and publisher that specializes in world literature, the arts, and progressive politics. It was founded in 1953 and was a big part of the Beat movement.
20. North Beach
As you drive up Columbus Avenue and onto Grant Avenue, you'll find yourself in San Francisco's North Beach neighborhood. This is SF's version of "Little Italy" with a historically large Italian population. As you might expect, this is a great area to get Italian cuisine, pizza, and desserts.
21. Coit Tower
For some amazing views, take a short trip up the winding road to Coit Tower on Telegraph Hill. The 210-foot structure is another iconic symbol of the city's skyline. If you have the time and budget (tickets can run up to $8), you can go to the top of the Tower for even better 360 degree city views.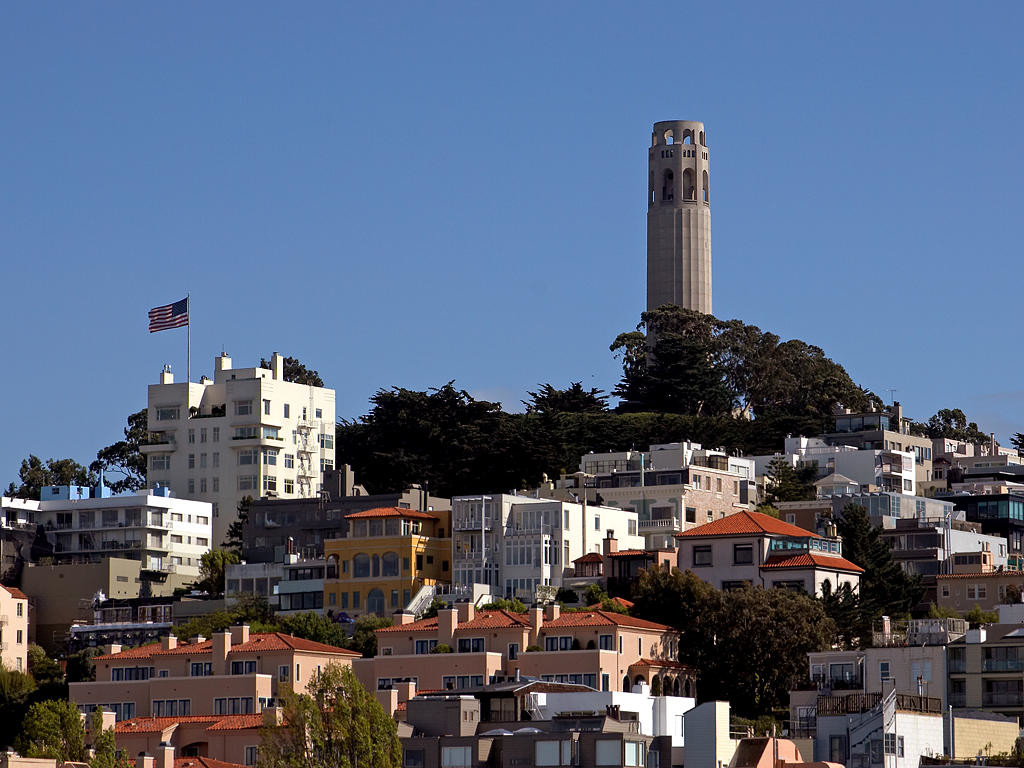 22. Fisherman's Wharf
Although this is one of the busiest areas of the city with the most tourists, it's still worth checking out. You can get some delicious fresh clam chowder in a sourdough bread bowl and visit the sea lions who sunbathe around Pier 39.
23. Alcatraz
Everyone knows about Alcatraz from the movies. This is also a very tourist-y thing to do, but it's actually a really cool attraction and well worth your time. Just be warned that you'll have to reserve and buy your tickets well ahead of time. Tickets are made available 90 days in advance.
24. Ghirardelli Square
Ghirardelli Square is a landmark public square with a variety of shops and restaurants. It's best known for its Chocolate Manufactory. Check out their chocolate store, ice cream shop, and get a free chocolate sample when you visit.
25. Aquatic Park
Aquatic Park is a small recreational area just off the main Fisherman's Wharf drag.  It features a mini beach (where you'll typically find locals swimming in their wetsuits), a museum, and a long cirucular municipal pier that offers nice Bay views.  In October, this is a great place to watch the Blue Angels during Fleet Week. 
26. Fort Mason
Fort Mason is a former US Army post located up the hill from Aquatic Park. You can walk or bike up the hill to get some nice Bay views in a forest-like atmosphere.
27. Marina Green
The Marina Green is a long grassy area between Marina Boulevard and the Bay in the Marina District. You'll get amazing views from Alcatraz to the Golden Gate Bridge, and you'll see lots of people flying kites, running, and playing volleyball and soccer.
28. Palace of Fine Arts
The Palace of Fine Arts is an amazing domed structure originally built for the 1915 Panama-Pacific Exhibition. It's a very beautiful and tranquil area with a pond, geese and other water birds, and a walking trail.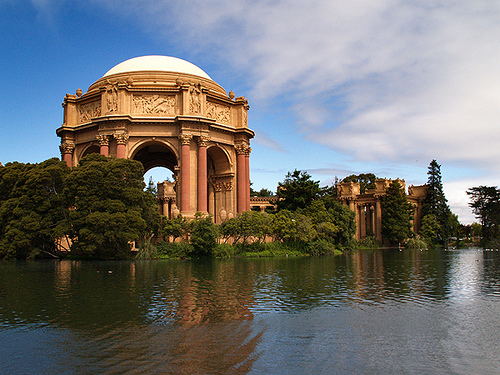 29. Presidio Gate
The Presidio Gate is the entrance from Lombard Street to The Presidio, a 2.3 square mile former military base that's now part of the Golden Gate National Recreation Area. It's an amazing part of the city, lush and green like a forest, with a golf course, amazing views and beach access.
30. ILM & the Yoda Fountain
George Lucas' Industrial Light & Magic is located within the Letterman Digital Arts Center. You can visit their 23-acre campus, which includes public park space and a collection of iconic movie statues. The most famous is the Yoda Fountain, featuring a 23-inch life size version of our favorite Star Wars character!
31. Crissy Field
This large grassy area in the northwestern corner of SF offers amazing views of the Golden Gate Bridge. On a nice day you'll find lots of people enjoying picnics, running, flying kites, and walking their dogs.
32. The Golden Gate Bridge
The Golden Gate Bridge is an iconic San Francisco landmark and one of the 7 Wonders of the Modern World. You can park on the SF side for photo opportunities, or walk or bike across the bridge. It's definitely worth walking halfway and back to get some amazing views of the city.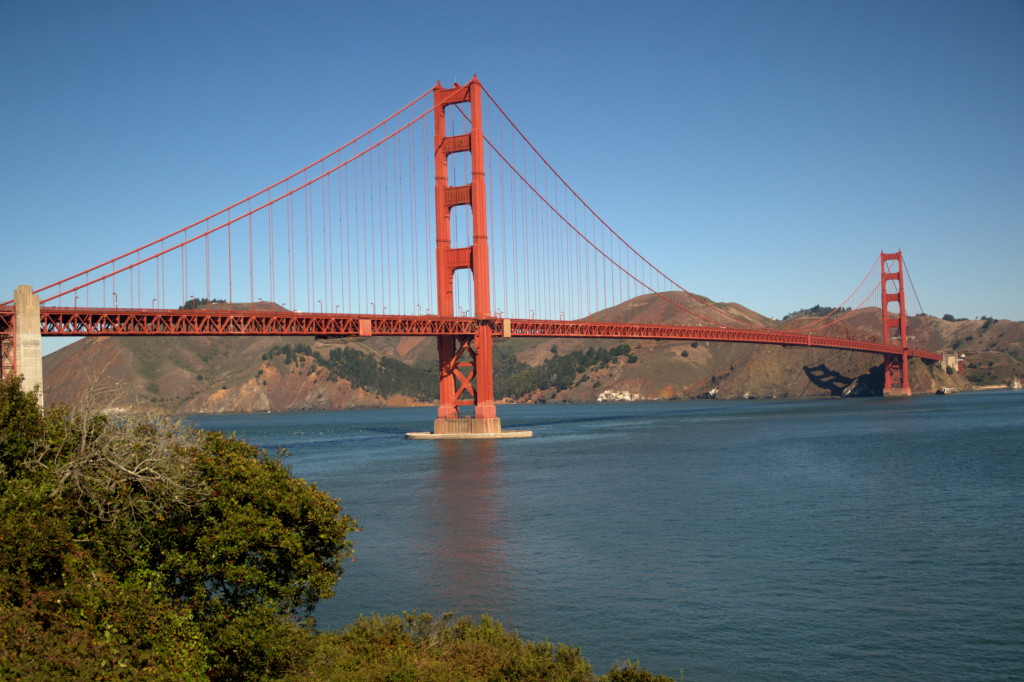 33. Fort Point
At the very base of the SF side of the Golden Gate Bridge is Fort Point. It was built before the Civil War to protect San Francisco from hostile warships. As part of the National Park Service, you can tour the fort for free. You may also notice some brave surfers surfing off the rocky coastline.  For movie buffs:  Ft. Point was featured in Hitchcock's film Vertigo.
34. Baker Beach
As you head south from the Golden Gate Bridge, you'll come to Baker Beach. This is the best beach in San Francisco for laying out and enjoying an actual beach experience. And if you're feeling adventurous, you can venture up to the northern-most area, which is a clothing optional beach.
35. Sea Cliff
Sea Cliff is a beautiful neighborhood just south of Baker Beach. As you drive through this area, you can marvel at the mansions that overlook the Pacific Ocean. Robin Williams and Sharon Stone were just two notable people to have lived in this neighborhood.
36. Lands End
Lands End is a park within the Golden Gate National Recreation Area. It offers breathtaking hiking trails along the Pacific Coast cliffside with winding turns, beautiful cypress trees, and views of shipwrecks.
37. Sutro Baths
Located in the southwest corner of Lands End are the Sutro Baths ruins. You can walk among the ruins and learn the history of the great San Francisco family swimming and amusement center. When you're finished here, check out the iconic Cliff House restaurant next door.
38. Ocean Beach & Great Highway
From the Cliff House, you'll travel south along the Great Highway for a couple of miles. On your right will be Ocean Beach, which is a great beach for surfing and kite flying. The waves are usually decent here, and it's almost always windy.
39. SF Zoo & Lake Merced
The SF Zoo is a 100-acre zoo located in the southwest corner of the city. It's home to over 1,000 exotic, endangered, and rescued animals. Next to the zoo is Lake Merced, the largest lake in the city, which is surrounded by three golf courses.
40. Golden Gate Park
Golden Gate Park is a spectacular recreation area consisting of over 1,000 acres of public park grounds. It offers museums, a music concourse, a conservatory of flowers, a Japanese tea garden, and even a bison paddock.  Fun fact:  GG Park was designed by the same architect who designed NY's Central Park, Frederick Law Olmsted.
41. SF Botanical Garden
The SF Botanical Garden is a beautiful 55-acre urban oasis showcasing over 8,000 different kinds of plants from around the world. It features a variety of different gardens as well as a Redwood grove.
42. De Young Museum
The de Young Museum is a fine arts museum in Golden Gate Park. It showcases American art from the 17th through the 21st centuries, international contemporary art, textiles, and costumes, and art from the Americas, the Pacific and Africa.
43. California Academy of Sciences
The California Academy of Sciences, also located in the heart of Golden Gate Park, is one of the largest natural history museums in the world. It houses over 26 million specimens and includes an aquarium and planetarium.
44. Twin Peaks
After you leave Golden Gate Park, you'll make your way south around Mount Sutro (the large three-pronged antenna tower). Once you curl up the backside of Twin Peaks, you'll be treated to some of the best views of the entire city. Enjoy a bird's eye view of the entire northeastern quadrant of of San Francisco.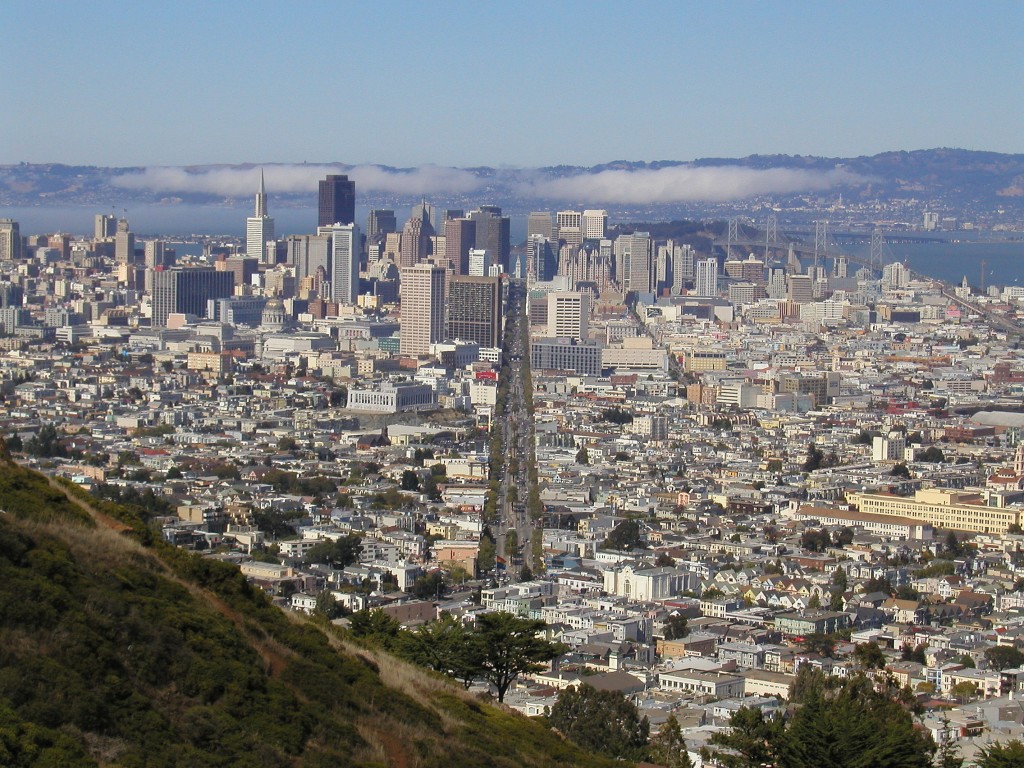 45. Duboce Triangle
As you make your way down the front of Twin Peaks, you'll continue to enjoy amazing views of the city all the way down. Once you get to flat land, you'll drive along 14th Street through the quaint tree-lined Duboce Triangle neighborhood.
46. Dolores Park
Next, you'll drive by Dolores Park, a very popular park situated between the Castro and the Mission neighborhoods. On a nice day, you'll find the park full of people sunbathing, playing soccer, doing yoga, and throwing frisbees. And right across the street is Bi-Rite Creamery, one of the best gourmet ice cream shops in the country.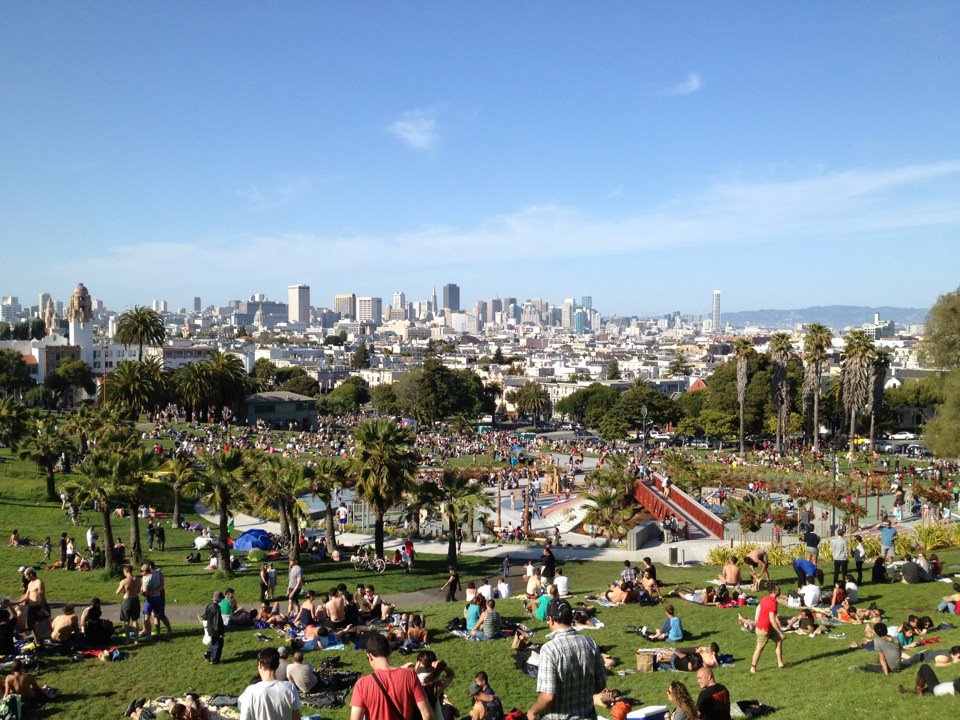 47. AT&T Park
The home of the San Francisco Giants baseball team, AT&T Park is considered one of the best ballparks in the country. It has a old brick facade, statues of Giants legends, amazing views of the Bay, and some of the best ballpark food around.  If you're lucky and the Giants are playing a game, you can watch a couple of innings for free outside the park in right field.
48. South Beach
South Beach is the neighborhood that runs along the water from AT&T Park to the Bay Bridge. It features some of the city's best weather, great water views, nice restaurants, and South Park (a quirky little park frequented by local Internet startup workers).
49. The Bay Bridge
While not as famous as its cousin, the Golden Gate Bridge, the Bay Bridge is still an epic bridge worthy of note. If you have time, take the bridge to its midway point, Treasure Island. From there, you can get some amazing views back across the Bay to the city.
You made it!
Congratulations if you made through this entire drive.
As I mentioned, you may want to go back and revisit certain places that you didn't have time to fully explore. Maybe spend half a day in a museum or walk all the way across the Golden Gate Bridge.
There are also some places to check out that aren't on the route: the Painted Ladies, the Castro, the SF Opera, the Exploratorium, Pacific Heights, just to name a few.
You'll soon realize why San Francisco is one of the most expensive and sought after cities in the world. The natural beauty, the weather, the views, the arts, and the iconic neighborhoods will keep you coming back!